How to turn a dark, old closet into a cheerful bright art studio.
Longing for a change, I decided to alter my life drastically by moving into an old, neglected farmhouse in a small Kansas town years ago. The interior was dim and gloomy after being neglected over the years; however, through much effort and dedication I slowly renovated it transforming it into a cheerful home. One of the projects that I accomplished was setting up an art studio filled with natural light where I could create works of art.
On the second floor, I found two bedrooms on either side of the house and in its center a more petite room that had previously been altered into a closet. The walls were oddly curved which made furnishing it difficult as they could not accommodate regular-sized furniture or storage units. To make this space functional, I would need to construct custom pieces specifically designed for it – there were two doors presenting access to the attic placed on opposite sides with an intricately shaped window overlooking eastwardly from its wall's midpoint.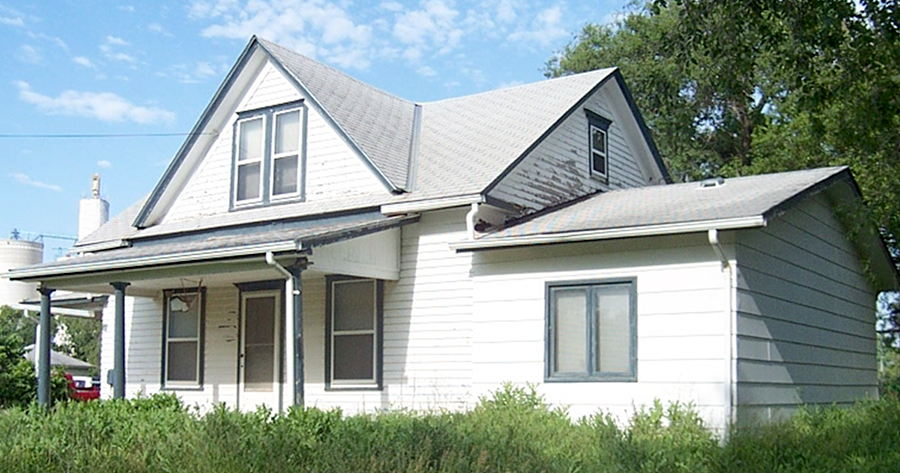 On the western wall, a sizeable rod hung clothes while an antiquated light fixture seemed held together by electrical tape. Wallpaper embellished each of the four walls and ceiling, with many homes in this area having experienced various wallpaper designs throughout time. To move forward with renovations, I was required to remove the clothing rod and repair damage done to the wall as well as replace outdated lighting.
Recently, the house had received a substantial addition in the early 90's. This meant that there was an additional square footage on the lower level; this bedroom became converted into a new bathroom. Furthermore, with this expansion came a larger kitchen and an add-on bedroom attached to its adjoining bathroom.
The Closet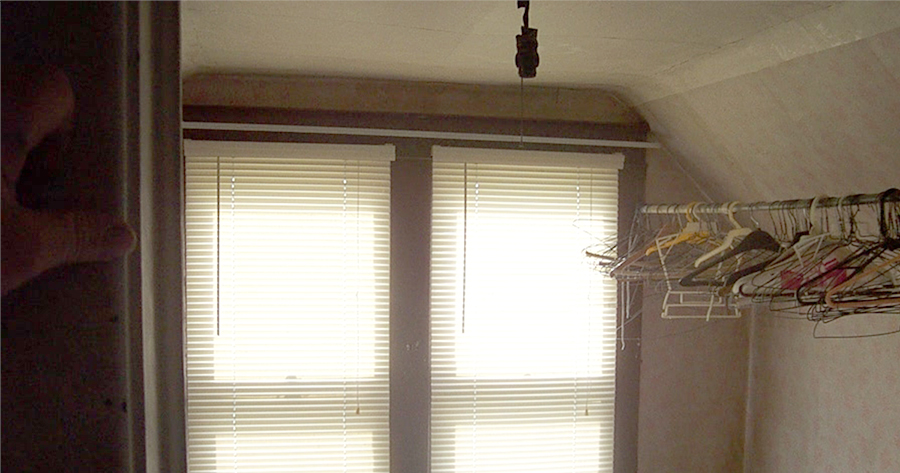 While deciding what to do with the petite upstairs room, I had already been focusing on other projects in my home. This room contained east-facing windows that illuminated the area with natural light, making it ideal for a variety of uses. With two bedrooms needed – one for my son and another for my daughter – I decided that this space could be used either as storage or something else, leaving me to take up residence in a bedroom situated on the main level.
I pondered using the space above my bathroom as an additional restroom, however, I eventually decided to use it for something far more creative. Instead of making a new office in the kitchen – which was initially part of my plan – I chose to transform this small area into an art studio. Not only would this provide me with inspiration while working but also meant that plumbing installation wouldn't be necessary!
The Demo
To begin my renovation project, I began by getting rid of the wire hangers on the metal rod. Then, I got to work on taking off the wallpaper with a steamer; however, it kept burning my hands and leaving behind glue residue! That's when I decided to try something new. To do this more effectively and efficiently, I filled up a spray bottle with some dish soap and hot water – voila! This method was doing wonders at removing all that sticky stuff right away.
As I peeled away one layer of wallpaper, another older design would be revealed underneath. It was like a time machine; the designs gave me insight into what was popular in those decades based on their patterns and styles! To my surprise, there were at least six different designs – which made it even more fun to observe! Additionally, throughout the house small pieces of aluminum foil could be seen covering holes and cracks caused by shifting over time.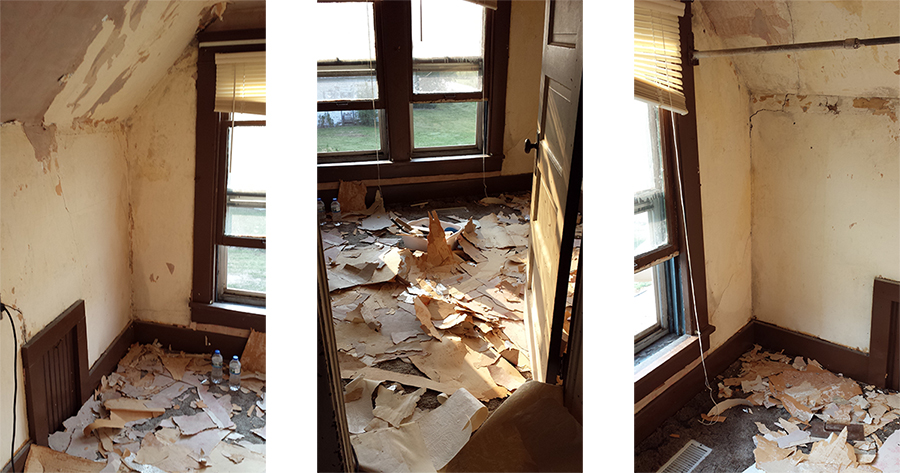 After I had stripped away most of the wallpaper, I rolled it up into a bundle within the carpet. To save time, instead of bagging all my debris, I slyly slid it down the stairs as if nothing was amiss. And due to me having already begun removing some old carpets from those same steps, this plan worked much better than expected. The dining room's original doorway situated at the base of said staircase allowed for an optimal dumping space – and one that could be easily accessed by truck when required!
Get notified when we post new content!
After removing the wallpaper, I discovered it was lath and plaster beneath. My initial thought was to demolish all of it and install new sheetrock – this would require re-wiring electricals as well as placing up fresh layers of drywall.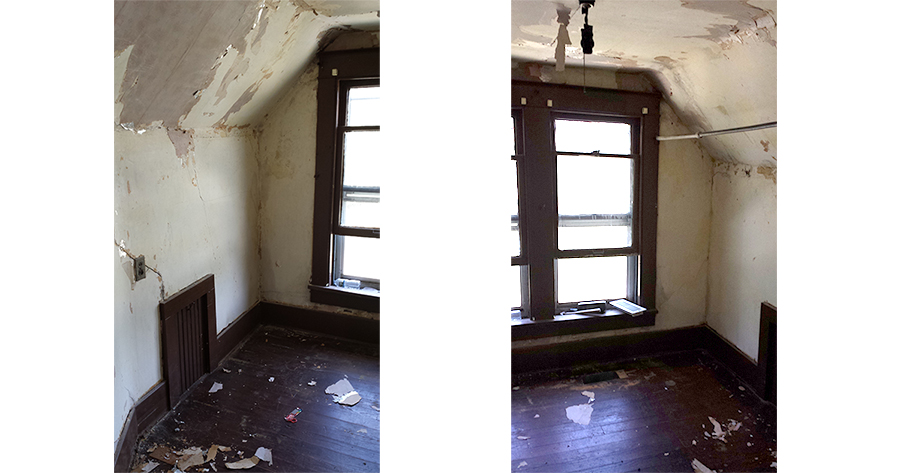 As the warm summer months approached, a glaring issue presented itself – my south-facing windows let in a torrent of sunlight which had me sweating buckets. With multiple other projects to attend to and wanting no additional time or money taken away from them, I decided that cleaning up what remained of the wallpaper and filling out its patchwork would suffice for now with an off white coat of paint providing me with a clean slate. After all, there was another thought at play – why not give the walls some life by painting fresh floral murals?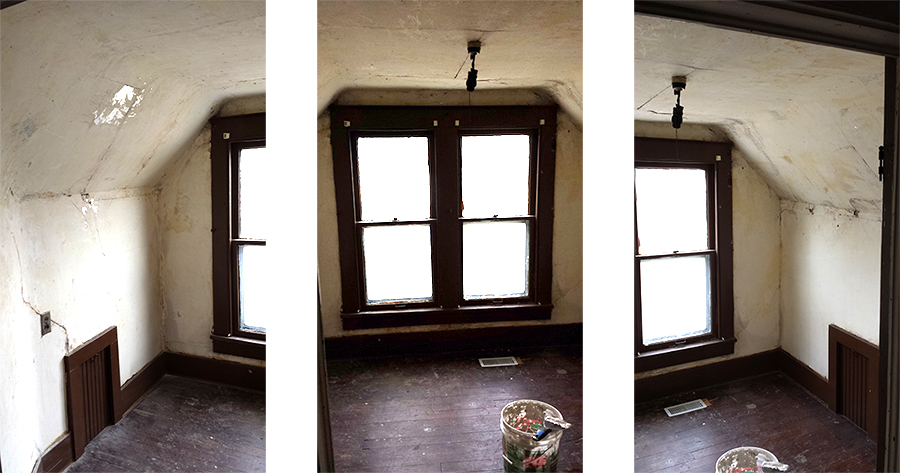 Planning the Design
As I was eager to create a cheerful space for art projects, the idea of adding a floral mural came to mind. After some deliberation and research on reference photos, my plan began taking shape in my head as I directly sketched it out onto the wall without wasting time with paper first. As painting this masterpiece across all four walls would consume considerable effort, there simply wasn't any room for delay!
Painting Begins
After sketching the design on the wall, I wisely began selecting colors for my butterflies to serve as a guide when painting the flowers. Thankfully, I had some leftover latex paint from previous projects; and additionally, The Home Depot in Denver supplied me with tiny sample bottles of their own. With these materials at hand, it was time to begin adding hues to bring this mural alive!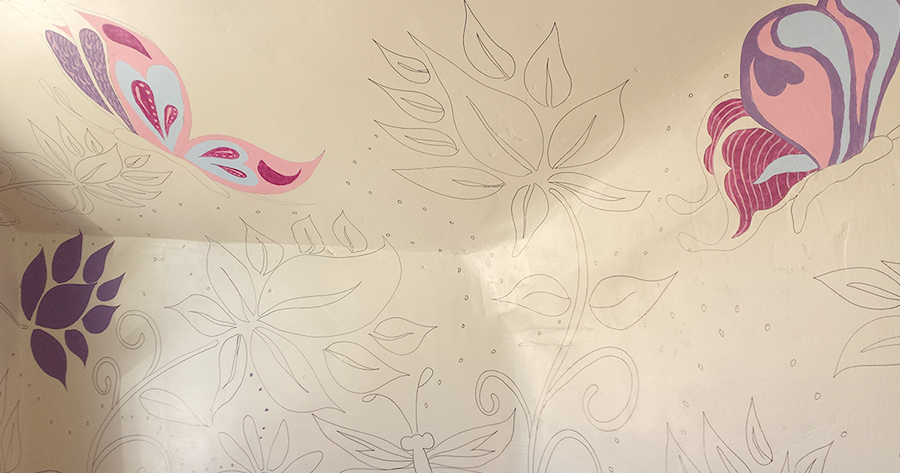 Each day I would lose track of time while painting in this room, sometimes late into the night and with only a single lamp to light up my work. It was an incredibly calming experience, surrounded by music as I carefully crafted each brush stroke.
The dips and contours of the wall complicated my design process immensely, so I took intermittent breathers to tackle other parts of the house. In order to combat sweltering summer temperatures, I painted early in the morning and into late evenings when things got a little cooler. Despite these obstacles, I managed to get it done – all thanks to some hard work and determination!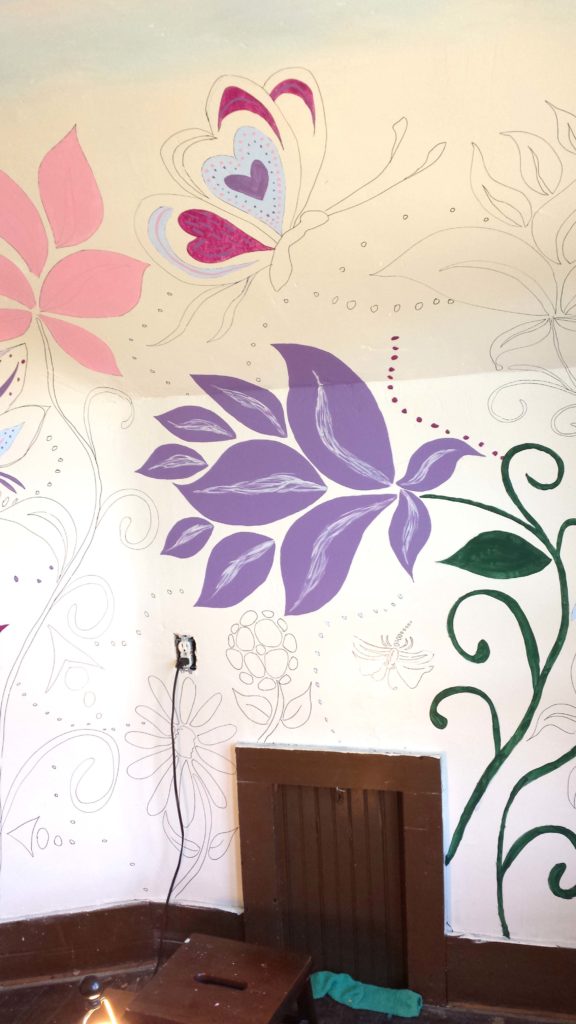 Final Touches to the Art Studio
After I completed my mural by adding the colors, I knew it could benefit from an extra bit of flair. Thus, I carefully added a black outline around all pieces in the illustration. It took me quite some time to complete outlining each petal and leaf – but boy was it worth it! To see how this line brings out subtle details that would've gone unnoticed without is simply breathtaking.
The flowers look slightly misshapen, and their petals are too close together–could it be because of exhaustion? I recall the Kansas summers being scorching when I was a kid; however, as an adult my main struggle was with the humidity. Exhaustion from this heat could definitely be responsible for those distorted blossoms!
Get notified when we post new content!
As I paused from painting my beloved flowers, I attacked the first layer of paint to the trim and doors. The dreary brown had been haunting me for weeks; however, a single coating of brilliant white trimmed paint entirely refreshed this space!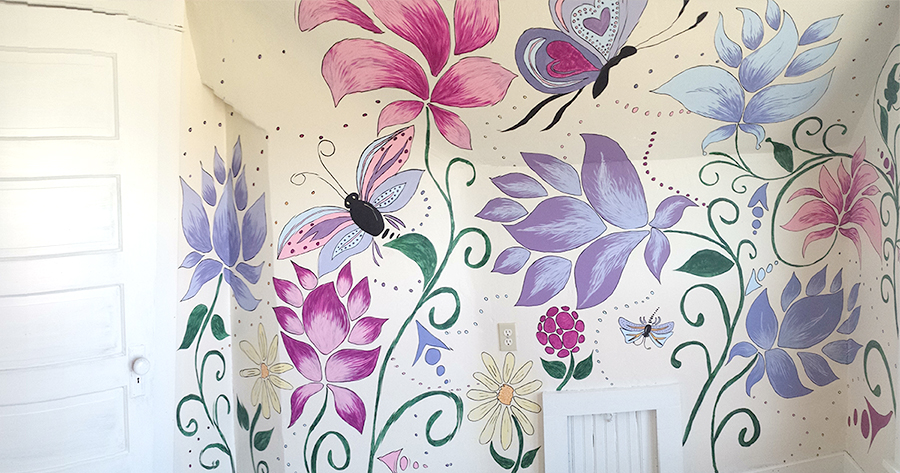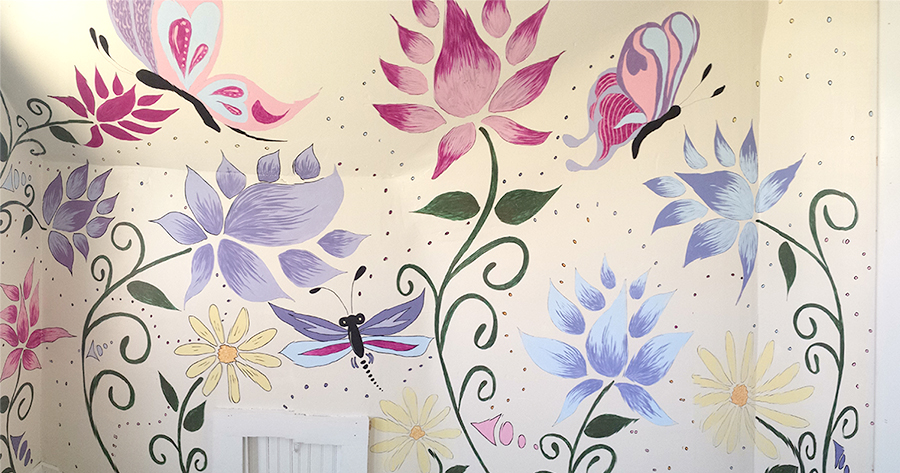 Flooring
While searching for flooring at the local hardware store, I stumbled upon a remarkable remnant of neutral tile. The appearance was perfect – its thickness and weight made it ideal for commercial spaces without having to use any glue! Not only did it look great in my space, but it effectively covered up the unsightly hardwood floors hiding beneath.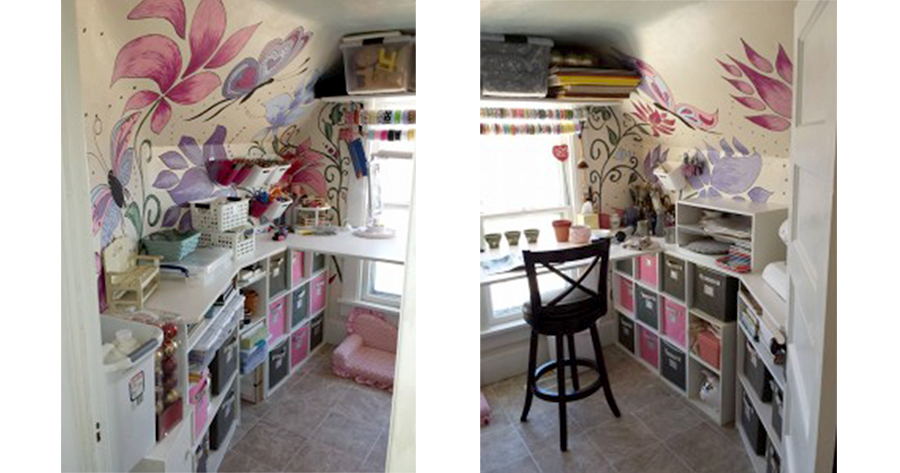 Adding Storage
Since the walls were curved, I had to be creative and deliberate about finding storage options that would fit snugly against them. These peculiarities are common in older homes since the center of a house can sink or shift over time, making it difficult for renovations. This was my experience as well: all of the walls and floors ended up being off-angle due to needing reinforcement at the home's core.
When I visited the local hardware store, I purchased a large sheet of white melamine tabletop to fashion into a custom countertop for my space. The plus side is that it enabled me to craft an effective workbench near the window. Moreover, after sanding and painting them accordingly, I added curved tabletops on top of the shelving units- giving myself more storage room and workspace!
For the sake of tidiness and ease of access, I decided to put together a storage shelf above my windows in order to safely stow away my containers and art paper. This was especially beneficial since it freed up floor space and made cleaning much more manageable.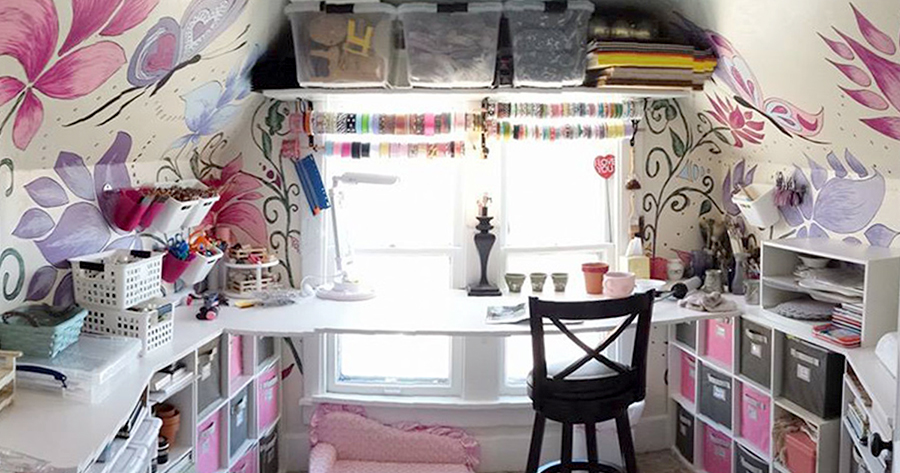 Final Thoughts
Overall, I am extremely satisfied with the outcome. If given another opportunity to make changes, I would prioritize installing countertops and storage units before determining the mural's appearance because currently its beauty is covered by shelving.
Seeking a change of scenery, I relocated to another state and took all my belongings with me – except for one showstopping piece. Yes, I left the mural intact! It would be perfect as a nursery or something else special that could bring joy to the new owners.
I'd love to hear your thoughts on this or what you would have done differently – please leave them in the comments below!